Degenerate Sports HOLE IN ONE !!!
Congrats to Degenerate Golf Member Tom Romandi for scoring his first ever hole in one today. It came on the 14th hole, a 199 yard par 3 at Angeles National Golf Club. His name will appear in the next issue of Fore Magazine. Way to represent Degenerate Golf Tom!!!!
Degenerate Sports Mission Statement
The mission of Degenerate Sports is to bring adults together for the purpose of providing pleasure and recreation for its members by affording them opportunities to participate in sporting, recreational, social and other activities that promote sociability among adults.

Degenerate Sports has been providing golf outings, Poker tournaments, fantasy sports leagues, other social events, and travel since 2004. The Club presently caters to several active members and professionals of all ages and the number continues to increase each year. Our Members of the Board are dedicated to making sure that all Degenerate Sports activities are well-organized for our member's fun, safety and enjoyment.
New Membership Cards coming soon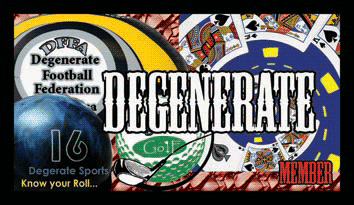 Head Honchos